Belgian Blond
Belgian Style Blond Ale | 7.2% alc./vol.
CBA Silver Winner 2016 | OBA Gold Winner 2016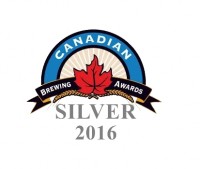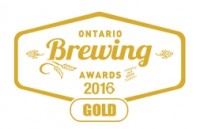 Our flagship beer, the Belgian Blond derives its unique fruity and spicy character from its yeast, notably citrus, pear, and slight peppery notes. It is sweet upfront and finishes dry with a noticeable alcohol warmth. Despite its high alcohol content, it is still surprisingly refreshing and easy-drinking. It is brewed using mostly pilsner malt and a generous dose of sugar to dry the beer out, like a typical Belgian ale. The Blond is hopped with Saaz from the Czech Republic and German Hallertauer to provide bitterness and a slight noble hop flavour.

Petit Blond
Belgian Pale Ale | 5% alc./vol.
This pale ale is a lighter version of our Belgian Blond, having been fermented with the same yeast strain, but given an American hop twist to provide additional grapefruit, floral and spicy notes to the flavour and aroma. It has been dry-hopped with Cascade and Crystal hops giving it that familiar hop character we so often crave and find in the finest of American pale ales.

Black Sheep
Milk Stout | 5.2% alc./vol.
Being the least Belgian of the lot, this beer could be said to be a bit of a Black Sheep. It's packed with roasted barley character and strong coffee flavours, along with hints of dark chocolate. The addition of lactose provides a full-bodied sweetness complemented by a touch of vanilla at packaging time.
We brew the Black Sheep with the finest British-style malts from Canada and the U.K; German Northern Brewer hops take care of the bittering and provide a subtle counterbalance to the beer's sweetness. Unlike our other beers, our stout is fermented with an English yeast strain, which leaves more residual sugar and provides a cleaner flavour, allowing the malt components to speak for themselves.
[/fusion_builder_row]

Wit
Belgian Wheat | 4.9% alc./vol.
OBA Bronze Winner 2017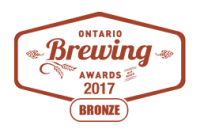 Brewed according to Belgian tradition and spiced with orange peel and coriander, our Belgian Wit offers flavourful relief from those long, hot summer days. The Wit's fruitiness and lighter body are enhanced by its Belgian yeast, which lends a pleasant tartness and completes the beer's spice and citrus profile. True to style, this beer boasts an ample head of velvety white foam, which aids in delivering its tantalizing aroma. The yeast in this beer adds to its character; it will have settled on the bottom of the bottle and should be gently roused before pouring.
The yeast in this beer adds to its character. It will have sediment on the bottom of the bottle and should be gently roused before pouring the beer.
[/fusion_builder_row]

IPA
Belgian IPA | 8.5% alc./vol.
The Great Ontario-Hopped Craft Beer Competition Winner 2017
CBA Gold Winner 2018 | OBA Gold Winner 2020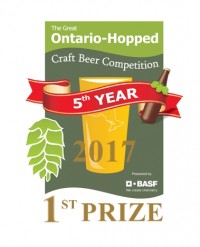 When the Great Ontario-Hopped Craft Beer Competition approached us to create a Belgian IPA for their 2017 contest, we knew, as a brewery focused on Belgian styles, that we couldn't allow ourselves to disappoint. After winning first prize, our IPA has become a permanent member of our lineup
In designing this IPA, we sought to craft a well-balanced, "big" beer that would deliver ample bitterness, but without overwhelming the palate. Using a modified version of the grain bill for our Tripel, we aimed for a high alcohol content and a slight malty sweetness that would act as a counterpoint to some heavy-handed hopping. The beer's bitterness comes out at the lower end of the IPA bitterness scale and was achieved using generous doses of locally-sourced hops. Dry hopping showcases the wonderful floral, herbal, and citrus flavours of the hops, and complements the signature spicy and fruity notes produced by our Belgian yeast.
[/fusion_builder_row]
Single
Saint Christina the Astonishing
Belgian Single | 5.5% alc./vol.
Out of our line up

Dubbel
Saint Amandus
Belgian Dubbel | 6.5% alc./vol.
OBA Gold Winner 2017
CBA Bronze Winner 2019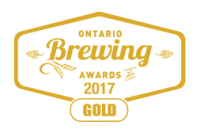 The Dubbel style beer originates from the Trappist abbey of Westmalle, where it is still brewed today. Dubbel (double) refers to the higher alcohol content, ours being at the mid-range of the scale at 7.1% alc/vol.
Our Dubbel has a deep brown-red colour. At once, this beer greets you with a sweet caramel aroma. The sweet berry, dark fruit, and slightly nutty flavours are well balanced with a subdued malt background. While pilsner malt provides the Dubbel's base, its colour comes mostly from the addition of Belgian "candi" syrup, a traditional ingredient added for flavour complexity and alcohol content. The interaction between the candi syrup and the complex flavours produced by our house yeast strain give our Dubbel its signature taste and place it well within the Trappist tradition.
[/fusion_builder_row]

Tripel
Saint Barbara
Belgian Tripel | 9% alc./vol.
CBA Gold Winner 2017 | OBA Silver Winner 2016 | OBA Gold Winner 2020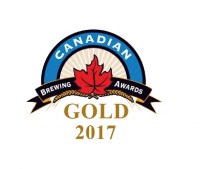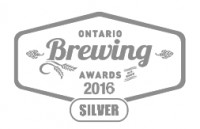 The term "tripel" denotes a beer style which originated in the Trappist monasteries of Belgium. It is a strong, golden-coloured ale that was first brewed by the brewery at Westmalle as a reaction to the growing trend of light-coloured lagers coming out of Bohemia and Germany. Tripels are distinguished from other golden strong ales by the dominant flavours imparted by the classic strains of yeast used by the various monasteries.
Our Tripel can be described as a stronger, sweeter, more complex version of the Belgian Blond. It is a highly carbonated golden ale which relies heavily on the flavours produced by our yeast during a longer than average period of bottle conditioning. This beer is very easy drinking, despite its strength (9%), and features an aroma of subtle spice mingled with a generous yeast character. The strength of the beer is balanced by a slight malty sweetness and generous carbonation. Like many stronger Belgian ales, our Tripel is meant to be served with a healthy head of foam.
[/fusion_builder_row]

Quadrupel
Saint Arnoldus
Belgian Quadrupel | 10.5% alc./vol.
CBA Silver Winner 2019
The Quadrupel style is somewhat contested in the realm of Trappist beers. Whether it represents a stronger than average Dubbel or is a style unto itself is a perennial question amongst Belgian beer aficionados. We like to think of it as a unique entity and have crafted our St. Arnoldus Quad as our most complex and intricate beer.
Quadrupels are typically very dark in colour, ranging from deep amber to nearly black. Like the Dubbel, our Quad derives much of its colour and flavour from Belgian Candi syrup. This ingredient, along with specialty malts, creates a broadly fruity aroma profile. Our Quad boasts an array of bright fruit, reminiscent of berries, but also featuring plum, raisin, and cherry. The brighter aroma is a slight deviation from the licorice and anise notes of a traditional Quad, but the complex interplay sets our version out from the crowd.
The Quad is markedly high in alcohol, coming in at the 10.5-11% abv. range. This feature necessitates a long conditioning period to bring out all of the nuances of the beer. We insist that the beer sits in the bottle for a minimum of four months before selling, though six would be optimal. The alcohol content also suggests enjoying this beer almost like a fine red wine. Serving temperature should be 10-14 degrees Celsius for optimal flavour and aroma development.
On the palate, the Quad offers its unique fruitiness complemented by generous carbonation and a slight alcohol warmth on the finish. It is quite easy-drinking despite its strength, thanks in part to its relative dryness. Look for a sweet and full-bodied sip with a lingering, slightly bitter aftertaste. A noticeable malt presence, notes of caramel, and modest nuttiness round out the range of flavours. The full bouquet of the Quad opens up as the beer comes to serving temperature. Served in one of our large chalices, the beer offers a uniquely evolving drinking experience over the course of a glass.
Lost Rye
Dark Rye Saison | 6.2% alc./vol.
Inspired by the news of a brazen theft in the night, this fresh take on a classic style incorporates the mild spiciness of the purloined rye with dark, nutty notes and a hint of caramel.
No longer available.
Autumn Red
Red Ale | 7.4% alc./vol.
No longer available.
Ralphy's Bitter
Extra Special Bitter | 6.0% alc./vol.
$ 0.50 per bottle sold is donated to Ralphy's Retreat; a unique place providing a safe haven for abused, abandoned and neglected pot-bellied pigs, cats, dogs, and farm animals since 2004.
No longer available.

Knight Beer Before Christmas
Pumpkin Ale | 7.0% alc./vol.
No longer available.

Hibiscus Wit
Belgian Wheat | 4.8% alc./vol.
To celebrate Canada 150 we've added locally grown Hibiscus flowers to our otherwise traditional Belgian wheat beer. It is still a very light and refreshing ale brewed using Canadian wheat, orange peel, and coriander. The Hibiscus provides a slight floral and earthy character and a celebratory faint red hue.
No longer available.