We've transformed an old school into a microbrewery with bistro style restaurant,
looking to bring the best Belgian style ales to Norfolk County.

Our Story
It began as a family company making Belgian style ales. After his studies, Mischa came back to Norfolk County and started hobby brewing with his dad Jo. The beer was such a hit with friends and family that it just took off from there.
Having moved from Limburg in the Netherlands to Limburg in Belgium, they had come to appreciate the Belgian style beer. Inspired, they decided to try and recreate that beer culture in their business. New Limburg was born. With an emphasis on the Belgian style, they came out with their flagship beer, the Belgian Blond. From there a line of Belgian style beers came to be. The real ambition and point of pride,especially for Mischa, is to make their own Trappist style beers. Trappist beers, traditionally brewed by monks in their abbeys, are some of the most highly regarded beers in the world. Though being the artists that they are they also experimented with different styles that resulted in some unique limited edition brews.
But it's not just about the beer; it's also about the culture around it. Bringing a little bit of the Belgian beer culture to Canada was the goal; to have people come to the tasting room and enjoy themselves. It shows that we're making a positive contribution to the community. We also like to support other local businesses by providing other locally made products. That is why snacks and foods were slowly introduced to a point that a kitchen became operational with "slow food". By avoiding the use of microwave ovens, the serving time for food items can take longer than is usual in a restaurant. We are grateful for the support from the community.
People are always surprised to see a place like this out in the country. To use an old school as a brewery is quite unique. It's nice to open an old school to the public so that people can come in and see it being used again. Want to experience it for yourself? Come visit us!
THE TAP ROOM / BISTRO-RESTAURANT
Fashioned after the European beer cafes, we wanted to make a comfortable homey feel in our tasting room. Set up like a bar we provide the full experience for enjoying our Belgian beers.
Stop by today for a nice cold beer in our cozy atmosphere.
We also serve local and imported wine and cider as well as kombucha.

Menu
Reservations are recommended, especially during the weekend.
Please also be advised that our food is "slow food". You best enjoy a drink or two and relax, as it might take up to an hour or longer for your meal to get served, all depending on type of order and number of orders at the time.
We strive to prepare as fresh as we can and without the use of micro wave ovens.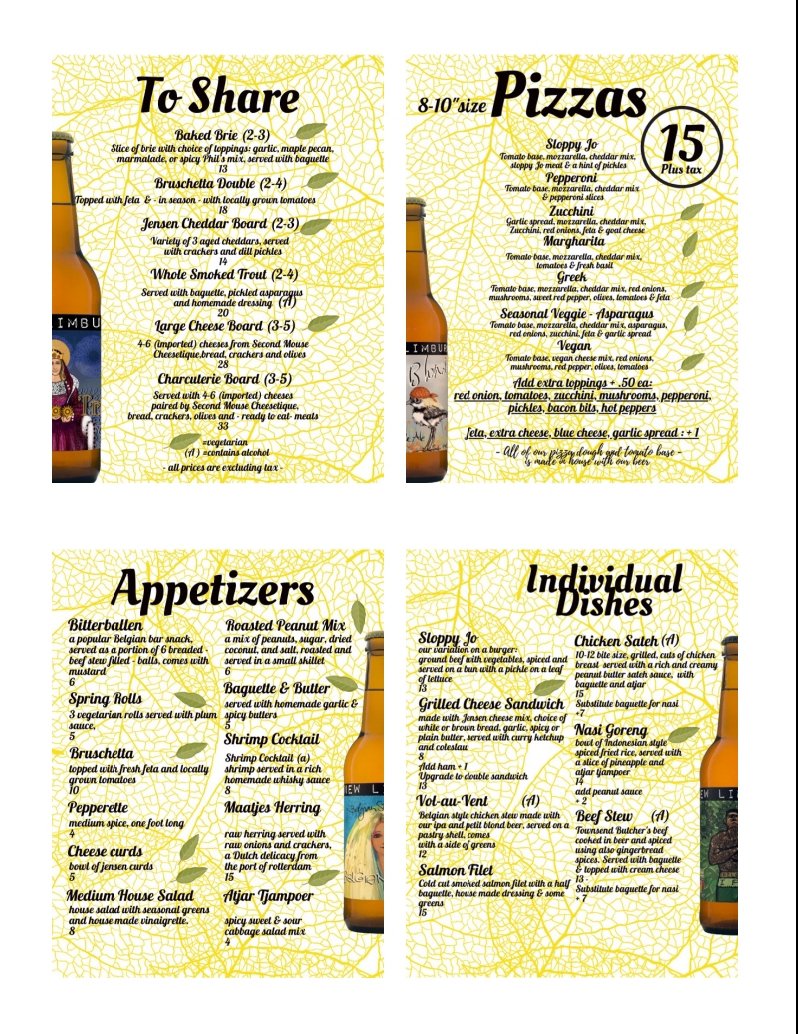 Snacks and dishes are frequently added but here are a few favorites that we serve consistantly:
Oven-Fresh Bread & Butter
An oven-fresh mini baguette served with homemade garlic butter and spicy butter.
Bitterballen
A traditional warm Dutch bar snack, made of a meat based filling and surrounded in a crunchy exterior. Served with Van's locally made mustard it is a perfect pair for a beer.
Cheese Curds
From Jensen's Cheese or Gunn's Hill, this snack is perfect if you are a little peckish.
Cheese Platter
Three types of Jensen's Cheddar (old, very old and extra old) served with crackers and pickles.
Cheese Platter Deluxe
This platter is for those serious cheese lovers. A varying mix of four kinds of cheese, crackers, bread, and olives. This platter varies per availability between cheeses that are paired for us by Theresa from Second Mouse Cheesetique in Delhi. Currently we serve a Porter cheese, Smoked Apple wood, Caramelized onion and Mountain Oaks Wild Nettle, and Cumin.
Charcuterie Board
Decked out with various meats and a selection of cheeses, this platter is made to share. Meat and cheese selection may vary with availability.
Pea Soup (during the colder season)
This seasonal treat is meant to warm you up on those cold winter days.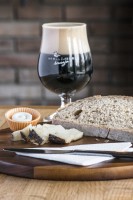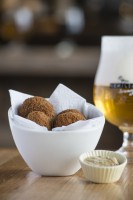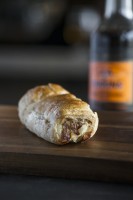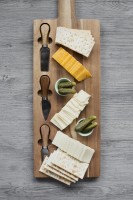 Tap Room / Restaurant Opening Hours
Monday – C L O S E D
Tuesday – C L O S E D
Wednesday Noon – 11 pm
Thursday Noon – 11 pm
Friday Noon – 11 pm
Saturday Noon – 11 pm
Sunday Noon – 11 pm
RETAIL
Love it so much you want to take some home? We have you covered!
Whether you want to take some home to stock up, or you want to take some cold beers from our fridge ready to go.
Retail Opening Hours
Monday – C L O S E D
Tuesday 9 am – 11 pm
Wednesday 9 am – 11 pm
Thursday 9 am – 11 pm
Friday 9 am – 11 pm
Saturday 11 am – 11 pm
Sunday 11 am – 11 pm
Where to Find Us
Can't make it out to the brewery but want to enjoy the experience?
Stop by the LCBO, Beer Store or Restaurant locations in your area!

To find out at which LCBO locations you can find our beers you can go to their website to find the Belgian Blond or the new-limberg-grisette-10756.
Under Product Availability, you can select a store based on your location or check all stores for all our listings.
If we're not at your local LCBO, you can always ask if they can bring it in for you!
Stay tuned for our availability.
Jo Geven
Owner
The atmosphere that has formed around the brewery, it's normal for us. In Europe, you have these kinds of cafes everywhere; strangers talking to each other and enjoying themselves. After a hard days work, there is nothing more satisfying than to sit down with a nice cold beer and interact with people who are looking for the same experience. It's become a piece of Limburg in Norfolk County.
Yvonne Moonen
Artist & Owner
Though I create the artwork for the bottles and work on the administrative side of things, I also enjoy the stories that I hear in a day. With this kind of work, you meet people you would otherwise not cross paths with. Everyone has a story to tell. Living and working in a school also add a fun dynamic.
Lee Jackson
Mary Dillon
Sales & Administration