We've transformed an old school into a microbrewery with bistro style restaurant,
looking to bring the best Belgian style ales to Norfolk County
Follow us on instagram and facebook
(newlimburgbrewery)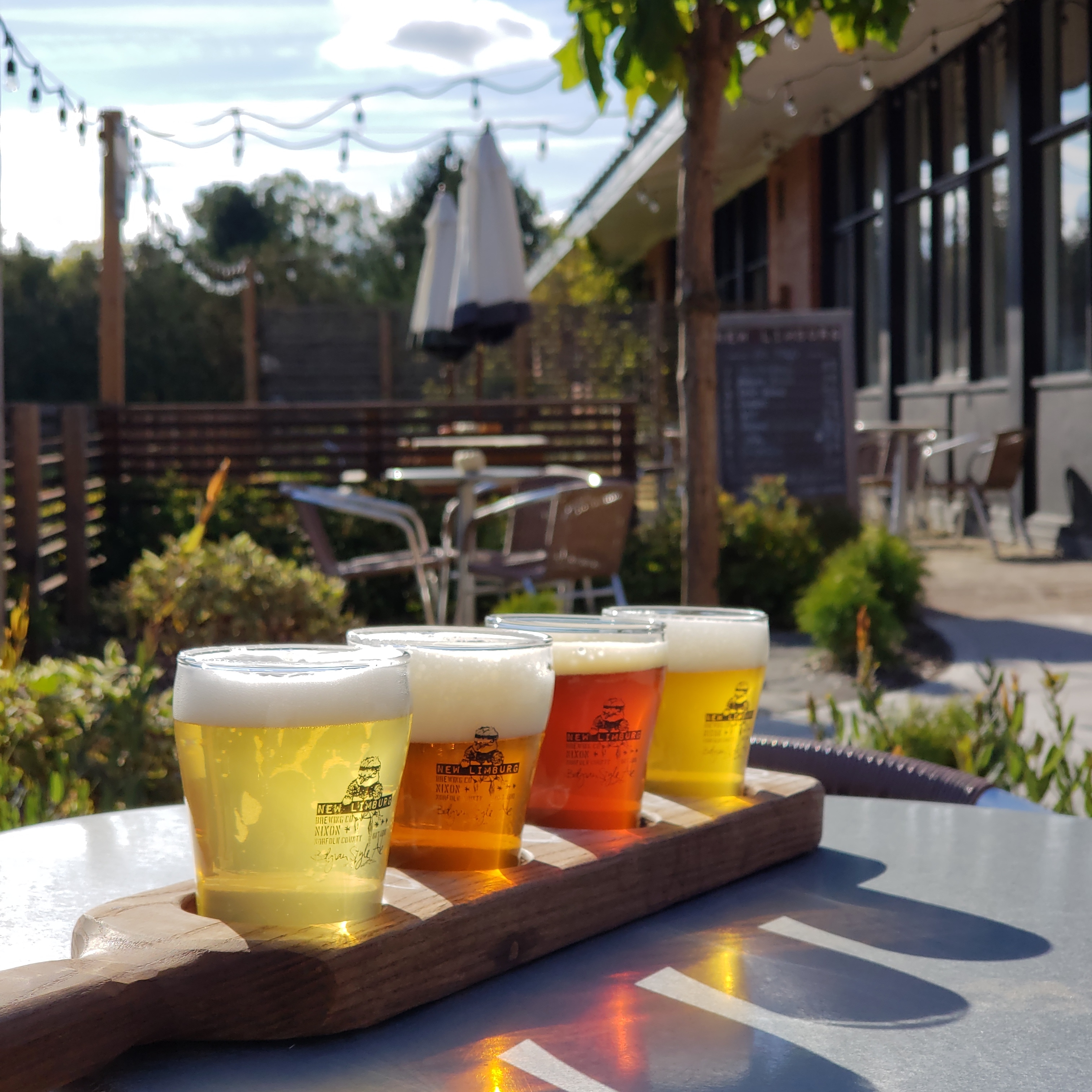 Our Story
It began as a family company making Belgian style ales. Initially it was hobby brewing, father Jo and son Mischa. The beer proved such a hit with friends and family, it just took off from there.
Having moved from Limburg in the Netherlands to Limburg in Belgium, they had come to appreciate the Belgian style beer. Inspired, it was decided to try and recreate that beer culture in their business. New Limburg was born. With an emphasis on Belgian style, they came out with their flagship beer, the Belgian Blond. From there a line of more of these style beers came to be. The ambition and point of pride, especially for Mischa, was to make their own Trappist style beers. Trappist beers, traditionally brewed by monks in their abbeys, are some of the most highly regarded beers in the world. They also experimented with different styles that resulted in some unique limited edition brews. Taking us six years ahead now, in 2021, Mischa with his partner Estelle van Kleef, have started Meuse Brewing, a new micro brewery, intending to add even more of the Belgian Style varieties in Meuse's line up.
At New Limburg, bringing a little bit of the Belgian beer culture to Canada was the goal; to have people come to the tasting room and enjoy them. There is no Wifi and there are no screens with news or sports. When visiting you are encouraged to enjoy the ambiance of an old fashioned bar/bistro in a former classroom setting or on one of the patios (in season).  Snacks and foods were slowly introduced to a point that a kitchen became operational with "slow food".  A second kitchen with an imported Italian Pizza Stone Oven is now producing house made beer-dough gourmet pizzas that are becoming famous in the area. Indonesian inspired dishes like Nasi and Bami are on the menu  as they were favorites in Limburg and Belgium as part of the food culture introduced from Indonesia, a former colony of The Netherlands. The "slow" part is best explained as; dishes that are prepared by avoiding the use of microwave ovens, resulting in longer then usual serving time for food items. The success so far proved a positive contribution to the community. People are mostly surprised to see a place like this out in the country. Re-using an old school as a brewery with bistro restaurant is quite a unique concept. Want to experience it for yourself? Come visit !
THE BISTRO-RESTAURANT
Fashioned after the European beer cafes, we wanted to make a comfortable homey feel in our tasting room / bistro restaurant. At the same time we loved the classroom with the blackboards and large windows. Set up like a bar we provide the full experience for enjoying our Belgian beers.
Stop by today for a nice cold beer and some snacks, "slow food" and/or gourmet pizza in our cozy atmosphere.
In addition we serve local and imported wine and cider
.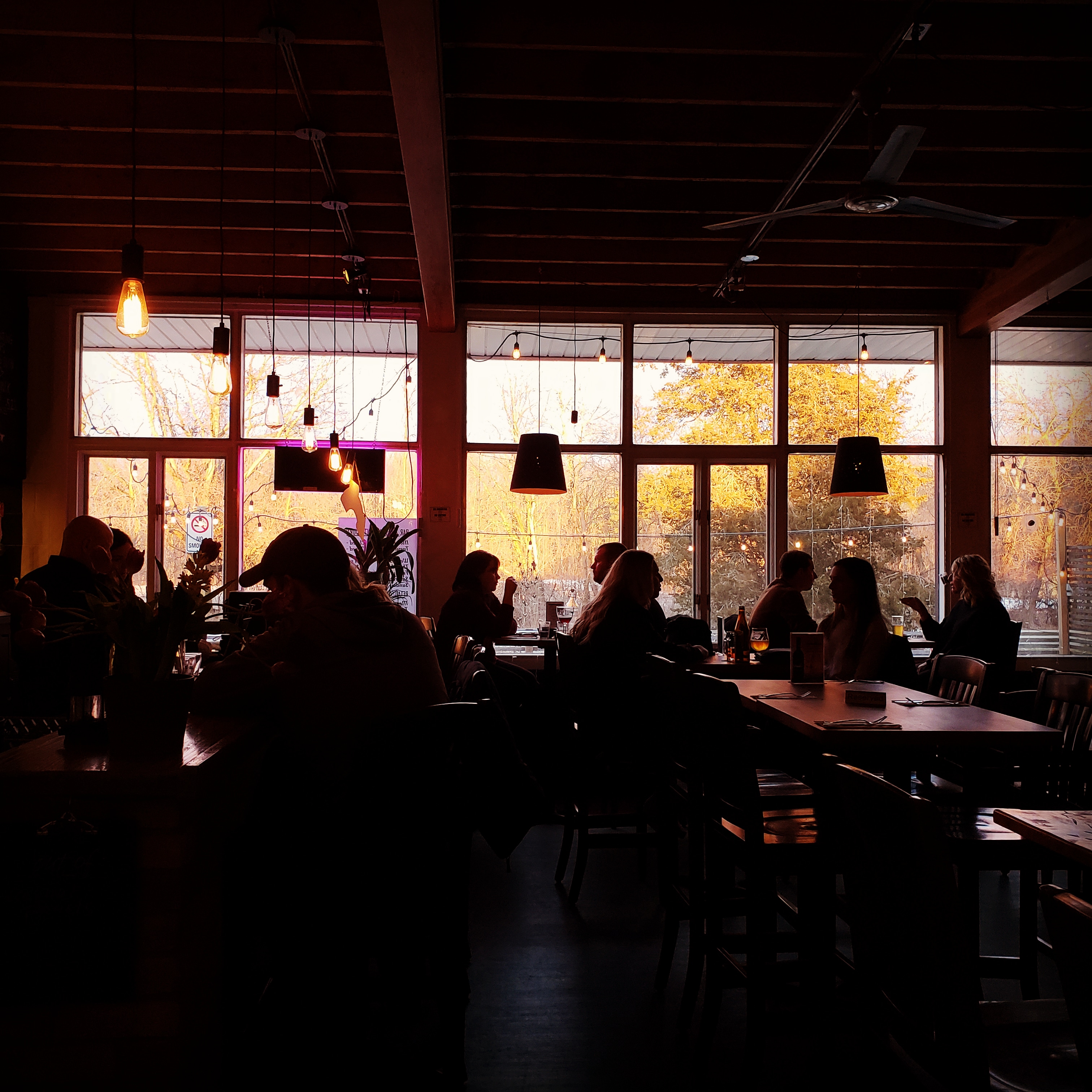 CURRENTLY OPEN FOR DINING,
FRIDAY-SATURDAY-SUNDAY 1-10 PM
WEDNESDAY & THURSDAY: TAKE OUT ONLY
FROM 4 – 9 PM
(KITCHEN CLOSES AT 9 PM)
TAKE OUT FOOD AVAILABLE
WEDNESDAY-SUNDAY 4-9 PM
NOTE THAT FOR INDOOR DINING WE REQUIRE PROOF OF FULL VACCINATION AGAINST COVID19, PLEASE HAVE YOUR PROOF AND ID READY FOR US TO CHECK UPON ARRIVAL – THANK YOU!
Check our Instagram and Facebook pages "New Limburg Brewery" for the latest updates.
WE OPERATE AS FOLLOWS:
BOTTLE SHOP HOURS:
Wednesday – Sunday
12 – 10 pm
and/or by chance when the open sign is lit.
Safe physical distance practice protocol in place, one person at a time, facemasks mandatory.
TAKE OUT HOURS:
MONDAY C L O S E D
TUESDAY C L O S E D
WEDNESDAY – SUNDAY
4 – 9 pm
(CALL FOR ORDERS)
519 426 2323

(Please also be advised, with dining, that most of our food is "slow food". You best enjoy a drink or two and relax, as it might take up to an hour or longer for your meal to get served, all depending on type of order and number of orders at the time. We strive to prepare as fresh as we can and without the use of micro wave ovens)
Opening Hours
MONDAY-TUESDAY – C L O S E D
Where Else to Find Us
Can't make it out to the brewery to try our beer but want to enjoy the experience?Stop by the LCBO, Beer Store or Restaurant locations in your area!

Check out this link to an episode of LCBO's Food and drink "5 Stops" featuring New Limburg as one of Norfolk County's stops!LCBO Food and Drink 5 stops, Norfolk
To find out at which LCBO locations you can find our beers you can go to their website to find the Belgian Blond or the New Limburg Wit. Under Product Availability, you can select a store based on your location or check all stores for all our listings. If we're not at your local LCBO, you can always ask if they can bring it in for you!Stay tuned for our availability.Jo GevenOwner / Operator
The atmosphere that has formed around the brewery and bistro restaurant, it's normal for us. In Europe, you have these kinds of cafes everywhere; strangers talking to each other and enjoying themselves. After a hard days work, there is nothing more satisfying than to sit down with a nice cold craft beer and interact with people who are looking for the same experience. With the snacks and house made dishes I create inspired by our family's childhood favorites, it all comes together. It's become a piece of Limburg in Norfolk County.Yvonne MoonenArtist & Owner
Though I create the artwork for the bottles and work on the administrative side of things, I really enjoy being creative with the spaces. Lately I am spending most time finding creative outlet in the kitchen while preparing dishes. With this kind of business, you get to meet people you would otherwise not cross paths with. Everyone has a story to tell.