RECENT EVENTS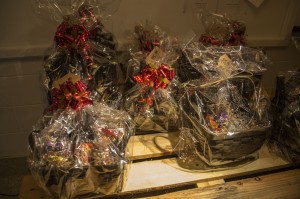 We are so ready for the winter weather! We've got beer soap, made right here in Norfolk by Kim at the Kalm Studio. So you can take a hot bath and get lathered up by a Petit Blond while sipping on the same (we've also got Dubbel for those of you who prefer a ménage à trois)! We've got pea soup in the weekends, to warm you up after the cold hike from the parking lot. We have branded hoodies to keep you warm and cozy. And since you've left the house already you might as well get your Christmas shopping out of the way and pick up a gift basket before heading back.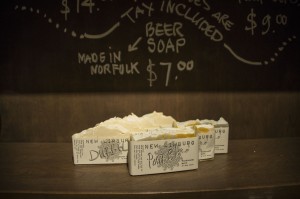 As hot as the summer was, we knew eventually it would make way for a chilly winter, so we have been waiting patiently since August for our newest release; the Quadrupel to reach maturity. Okay well we may have gotten into a few bottles along the way… but all in the name of quality assurance, we can stop anytime we want!
The quad is the last in line of the vaguely mathematical trappist styles, Dubbel, Tripel, Quad. You may have noticed a pattern here and yes this one is not for beginners but the 10.5% ABV will certainly warm you up inside.
We have brewed this Quad in recognition of the Belgian Saint Arnoldus. We greatly admire and appreciate the work he did in stopping the spread of the plague by brewing and promoting the consumption of, low alcohol, small beer. He ensured people stayed hydrated without drinking water contaminated with the plague. This holiday season we are celebrating our good health and clean water with our St. Arnoldus Quad.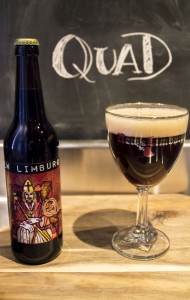 This beer is too special to drink out of just any glass. That is why we are releasing a gold rimmed chalice we recommend serving it in. Just be sure to hand-wash it since real gold is not dishwasher safe. This new beer will only be available in bottles, therefore we won't be able to offer any samples for tasting, so to give you an idea of what to expect the brewers have written down their impressions (I know their job is so tough).
The aroma coming off the St. Arnoldus Quad is quite powerful and certainly something to take the time for. It is very fruity on the nose with a bread-like malt background and there is a noticeable alcohol presence. Most perceptible are berry, dark cherry, and raisin aromas.
The flavour matches the smell closely. The beer has a strong fruit flavour and sweetness up front with a well-balanced lingering bitterness in the aftertaste. Fruit is again reminiscent of cherry, raisin, and berry. A bready and caramel maltiness background with a hint of nuttiness and chocolate to be discovered.
The St. Arnoldus is full bodied and highly carbonated, but still finishes quite dry. A lot of alcohol warmth can be felt, especially as the beer reaches serving temperature.
Best served warm at 10-14ºC. Suitable for aging; in the cellar this beer will improve with a few years on it.
Wow ("te gek!" as Jo put it)! Almost a week has passed but we are still in shock from Sunday, what a great turn out! None of us knew what to expect from our first ever hosted event, what if no one shows up? What if too many people show up? What if the beer is all foamy? What if the weather is bad? Despite our many worries and insecurities, our first event has set the bar high for those still to come.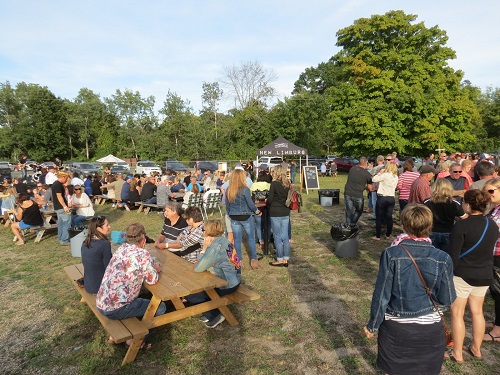 The weather was sunny with a pleasant breeze. The beers were behaving… for the most part. And the give or take 500 people were wonderful! Everyone seemed just as excited and proud with our success as we are, many approaching us with words of praise and encouragement, there wasn't a frown in sight.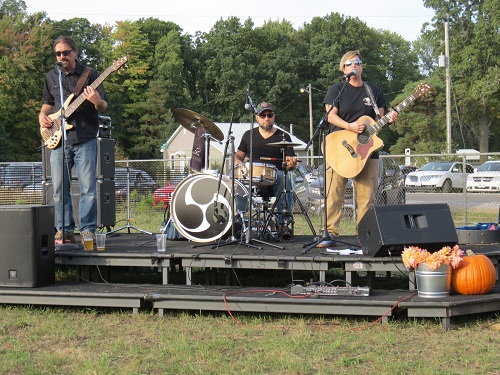 We would like to give a big thank you to the musicians for setting the mood, including the guests who simply couldn't stay away from the stage or the piano. We would also like to thank Shaka Bean and Magnolia Hospitality Company. We know it was a bit of a puzzle to be here.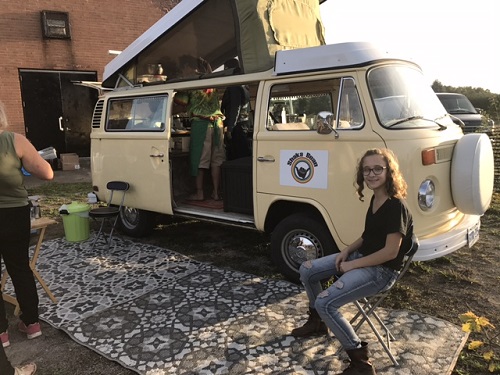 Last but not least we would like to thank our amazing volunteer crew for all their hard work, we could not have done it without them! We know it was a long day for you guys and we are working on a better thank you 😉 .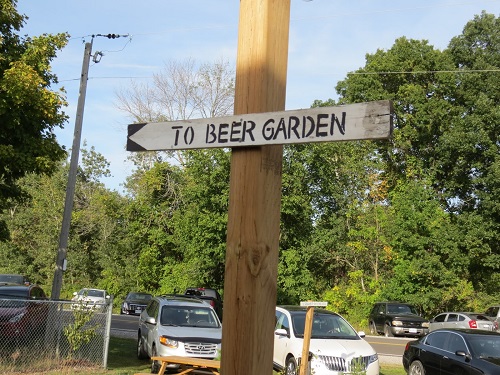 In an effort to thank our many customers for making our first year such a great one, we would like to celebrate the occasion with you at our very own New Limburg October Fest! Come enjoy some great beer, delicious food and excelent live music.
To make this event extra special we will be releasing a brand new beer developed and brewed by our newest brewer Andrew. It's a Dark Rye Saison and supplies are limited, so be sure to stop by for a chance to try it out while you still can.
Entry Fee: Free. Guests recieve a branded beer mug for a $6 deposit.
Prices: $2 per token; 2 tokens for 300mL beer.
See you there 😉