RECENT EVENTS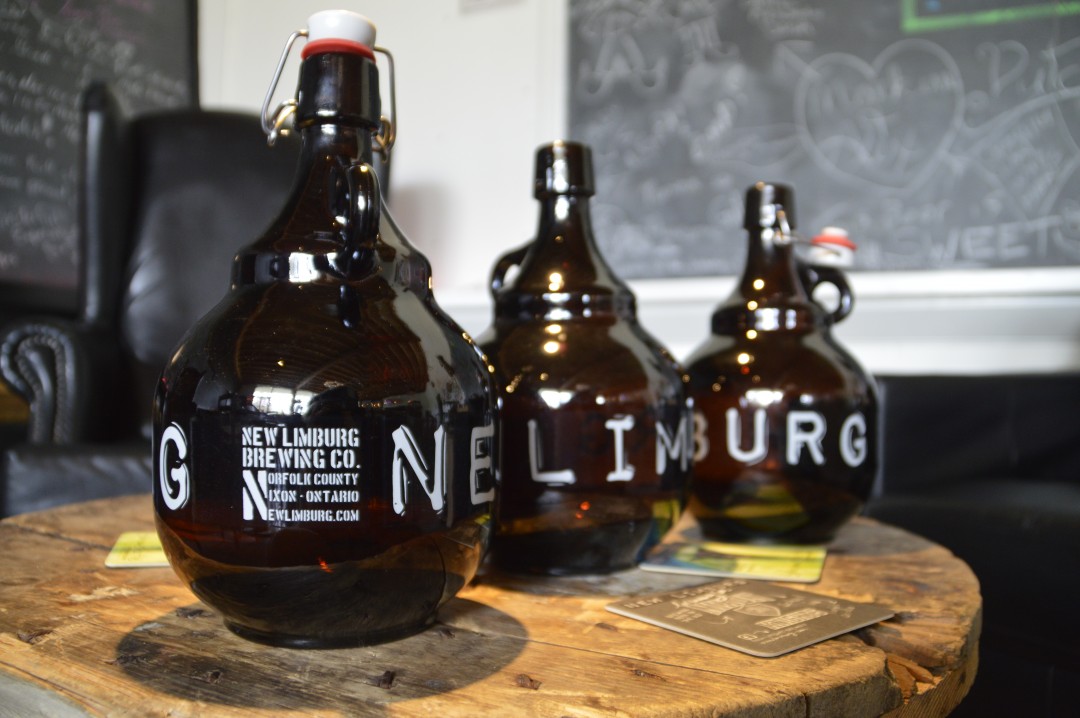 Finally the growlers are here! So forget the 4 pack this long weekend, instead grab a single two litre bottle filled with delicious, cold beer. Though you might as well grab a mixed case while you are here.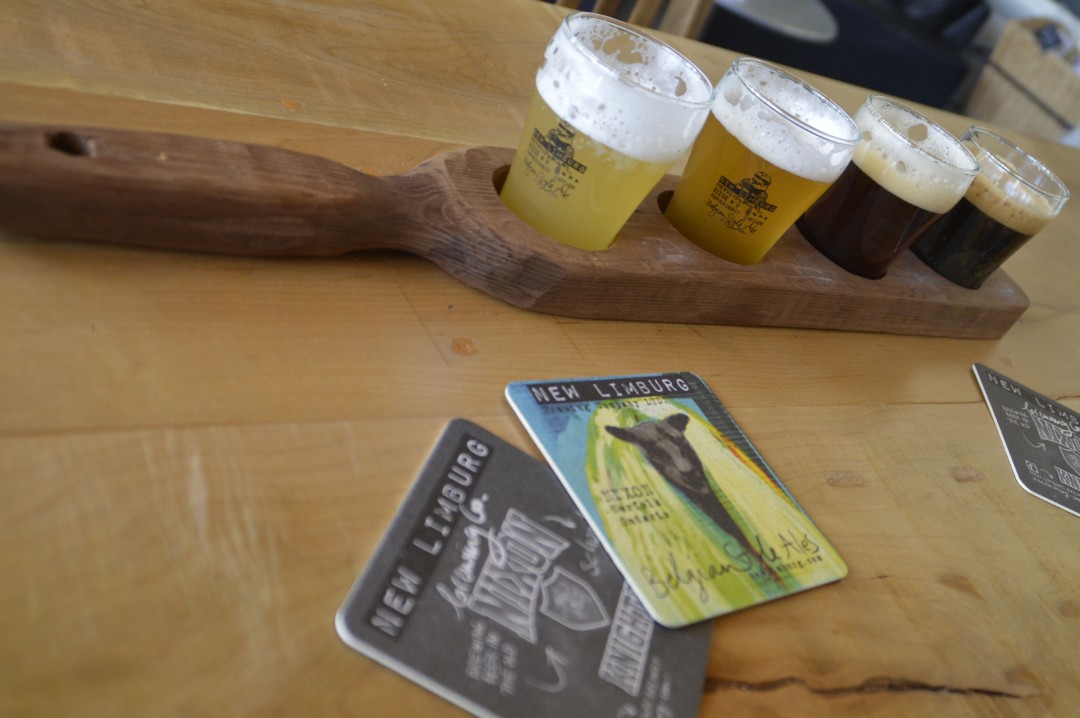 That's not the only thing that's new at New Limburg, we now have an option for those of you who are like me and just can't decide which New Limburg flavour to order. You can now get a flight with four different varieties, equal in volume to two of our regular glasses.  Or if you have never tried any of our beers before and are not quite ready to commit to a full glass.
Something yet to look forward to is the patio. We plan to have it ready to sit before the summer, for you to enjoy the calm country outdoors.
You asked and we want to deliver! Growlers are coming soon, but we need your help to get them in your hands.
For those of you who don't know what a growler is, it's a large jug (typically around 2L in size) that can be filled at a brewery with draught beer to take home. The advantage is that you get cold, fresh beer at a better price (since you won't need to pay for packaging each time you purchase a bottle).
It's possible to fill a growler directly from a draught faucet, but it is a poor quality fill. The beer will foam up, releasing CO2, resulting in a flat beer. It also exposes the beer to oxygen, which causes it to go stale sooner. In order to provide a high quality fill, we need to invest in a counter-pressure filler and additional refrigeration. The counter pressure filler purges the growlers with CO2 to prevent oxygen pickup and fills the growler under pressure to avoid the release of CO2. When filled this way, the shelf life of the beer will be weeks rather than days. We will also need to invest in growler inventory and related hardware/accessories.
Steps to get to our goal
Sign up for pre-sale.
Wait for others to sign up, unless you are the last.
Come in to provide payment when contacted.
When payments have been received, New Limburg places orders for all equipment and rewards.
Equipment installation.
Rewards are handed out.
In order to raise money to start filling growlers the right way, we're offering some great pre-sale deals. There are several reward levels that cater to all kinds of beer drinkers.See rewards below or in the featured images above.
Rewards
LEVEL 1 – $50
Branded Glass Growler (full)
T-Shirt with backer names (fictional or real as long as appropriate)
A Nixon Knight beer if any are pledged
LEVEL 2 – $150
Everything from Level 1 +
24L of Growler Fills
LEVEL 3 – $350
Everything from Level 1 +
Awesome Ceramic Growler (from the Portland Growler Company)
50L of Growler Fills
LEVEL 4 – $575
Everything from Level 1 +
Awesome Ceramic Growler (from the Portland Growler Company)
100L of Growler Fills
LEVEL 6 – $750 NIXON KNIGHT
For this generous donation you will be dubbed a Nixon Knight. As a part of this honour a knightly portrait of you on a horse will appear on one of our upcoming beer label series.
In addition to this title you will receive:
Everything from Level 1 +
Awesome Ceramic Growler (from the Portland Growler Company)
150L of Growler Fills
How to sign up
Fill out a sign up sheet in our retail. Or follow this link.
CONDITIONS
Pricing on specialty and limited production runs may be higher. Pricing and maximum alcohol content is subject to change based on minimum pricing set out by the Ontario government. Growler fills apply only to 7.2% alcohol. Must be 19 years of age to participate.
Weekend Winter Special
The Good Bread Company in Vittoria has taken our Black Sheep and turned it into a bread! So we wondered what goes better with beer bread than the beer it's made off? Nothing, that's what… well maybe if you were to add some award winning Bella-Vitano-expresso cheese from the Second Mouse Cheestique! We came up with the perfect combo : Beer bread, Expresso cheese and a glass of Black Sheep. If you are really hungry add a bowl of pea soup to the combo.
All stocked up
We have finally caught up with the damage brought on during the holidays. All our beers, excluding the Tripel, will be back on the shelves and on Tap as off Friday. Anyway, there are a lot of bottles to be labeled so I best get going.
Growing Steadily
Just one more thing: In order to prevent any future drinking problems, you know, lack of drinks available. We have upped the ante some more and brought in two more big boy tanks! Thanks to a few of our regulars for their help in getting the two beasts inside and upright!! You guys are real life savers, I'm sure you will all be good and sore for a few days after that adventure!